Home | Buy Now | How It Works | Testimonials | About Us | Contact Us | FAQ's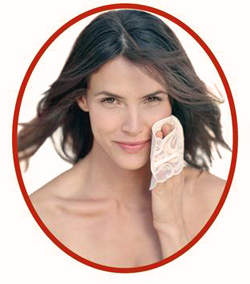 This cloth will change the way you think of skin care forever!
Why?...
Your skin will finally breathe!...
The abrasive lace cloth unclogs pores, defeating
bumpy pimples, rough skin, and more.
It's simple...
Just wet the cloth, apply cleanser, and wash with a circular motion.
Clean, soft, skin...
Your skin will feel velvety smooth and cleaner then ever before.
Amazing value...
You will realize that beautiful skin isn't just reserved for
those who can afford expensive facials.
100% Guaranteed...
We are so confident you will love this cloth that we offer a
full money back guarantee.
Naturally good for your skin...
Chemical free exfoliation made with organic
cotton terry cloth and a special lace.
Try it now- Completely Reusable!- only $7.95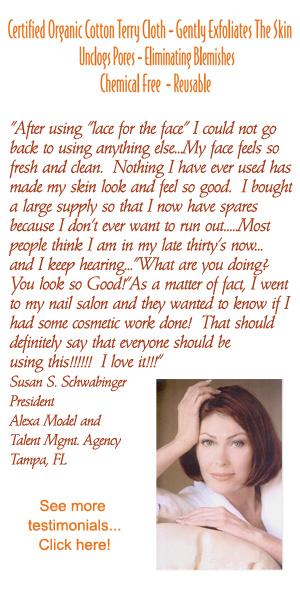 -Dermatologist recommended
-Hypoallergenic
-Suitable for sensitive skin

Lace For The Face Natural Microdermabrasion Cloth is a tried and true European remedy for pimples,
blemishes, rough skin, sun spots, fine lines, blackheads and ingrown hairs!
Lace For The Face is made of Organic Cotton terry cloth and a special lace with a texture that
has phenomenal exfoliating power for your skin. This microdermabrasion cloth is proven to
safely exfoliate dead skin cells, remove cosmetics, oil and dirt. Thus unclogging your pores
and revealing the soft, radiant skin you are constantly searching for. Other exfoliation products
usually fall short of this result. Loofahs and synthetic buffing pads are too harsh for use on your
face. Other microdermabrasion cloths on the market are too soft to have any real benefit. Forget
messy scrubs! They claim to exfoliate your skin, but actually do very little. Lace for the Face will
leave your skin perfectly exfoliated, soft and clear. You will see the difference after the first use
and wonder why you ever tried anything else!
Have you ever been bothered by that annoying bumpy acne?
Lace For The Face is the best way to get rid of this!
The benefit of this Microdermabrasion Cloth is so great that it rivals costly facials and
microdermabrasion at a dermatologist's office in effectiveness. You can use it all over your body -
Lace For The Face smoothes over all of your skin problems including back acne,
scars, callouses, stretch marks, age spots, and many more.
Your Microdermabrasion Cloth works so well because the upper layer of your skin,
which is called the stratum corneum is subject to buildup of dirt and bacteria which clogs the pores.
Lace For The Face safely exfoliates this upper skin layer. You wet the cloth and apply your face wash.
Then you gently and with a circular motion scrub your skin. It is safe to use daily.
Microdermabrasion peels and chemical peels (salicylic acid, enzyme, and glycolic acid) do exactly this,
but in a much harsher way. Your skin does exfoliate naturally. Sometimes, however it may need some help.
If you have oily skin, the natural process of exfoliation is hindered because of the sticky nature of oil.
If you have dry skin, you may also have problems because the dead skin cells
accumulate quickly giving your skin a grey and dull appearance.
You can see that regular exfoliation with our microdermabasion cloth can benefit
your skin greatly, and have you feeling cleaner than you ever thought possible!